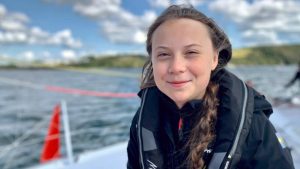 I see that Swedish 'climate activist' Greta Thunberg is making a fucking nuisance of herself again.
The precocious sixteen year old eco warrior is sailing the Atlantic to join environmental protesters in New York, and to take part in a summit at the useless talking shop that is the United Nations. She's being accompanied by her dad Svante* and a cameraman.
The trip is being made on a sixty foot yacht, and naturally it's claimed that it will be 'zero carbon'. Participants are eager to stress that this is no pleasure cruise. There isn't a shower on board, so it's all going to get a mite sweaty and smelly no doubt. There's also no loo, so our intrepid voyagers will have to piss and shit into a bucket, the contents of which will presumably then be heaved overboard as raw sewage (nice), unless they're planning to make a presentation to the UN as a token of their esteem.
Now maybe I'm cynical, maybe I'm just plain wrong, but I get the impression that young Greta is destined to go through life without ever having a proper job. I see her buzzing hither and thither, her life a whirl of conferences, media appearances, and carefully staged protests with virtue-signalling, gobshite celebrities there to get their pictures taken. No doubt too there'll finger-wagging articles for the likes of The Grauniad, lecturing the rest of us on the damage that we're all doing to Mother Earth. At some point there'll be a ghosted biography ('My Struggle', now there's a catchy title), and Hollywood will come calling ('based on true events'). She'll become famous for being famous, and if she plays her cards right, she'll be on a nice little earner in the process.
All hail St Greta of Kuntberg, a right sanctimonious little know-all, if ever there was one.
* Swedish for 'Cunt'
Nominated by Ron Knee