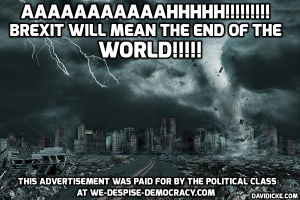 Long time no post cunters, but had to vent my spleen at events post Bojo becoming PM
If one fell into a coma in 2017, awoke today and turned on the news, he'd be no fucking the wiser that he'd been out for the fucking count two years.
Here we have project fear 3.0 …..but without any inspiration or guile…..just the same old arguments as two years ago. Fuck's sake, back to showing lorries stacked on the M1 or whatever. The pound dropping ( strong currencies always recover) farmers and "just in time "
FUUUUCK you've had 3 years to make up new stories you lazy bastards!! WE'RE NOT BUYING IT ! Oh and we know well take a hit but it's worth it cunts
A remainer said to me other day " see this is what leaving means " ….. I said nah mate, this is all your fucking faults…the markets and business…..if you'd just have backed the winners we'd be 3 years into recovery you fucking insidious spineless cowardice cunts!
Good to see so many new on here…. the anger is growing.
Nominated by Squint Cuntwood