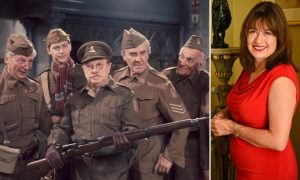 Daisy Goodwin needs an immediate cunting.
Goodwin is a TV scriptwriter and producer responsible for the TV series Victoria. She's also a Libtard Fundamentalist determined to destroy your television entertainment by suggesting that Dad's Army should be banned on the basis that it encourages eurosceptic views and the heretical notion that the little old doddering UK can go it alone. Her notion is that Corporal Jones ranting on about sticking it up fuzzy wuzzies every Saturday evening caused leavers to vote leave that way in the Referendum.
If you really want to nail the BBC for influencing public opinion, warned this idiotic woman, "You may want to look at how often Dad's Army is shown on BBC2".
This cunt has previous form in saying that she would never read a poem or book recommended by a man, only by a woman.
She'll probably be Director General of the BBC before long.
Fuck off.
Nominated by Marvellous Mechanical Cunting Machine