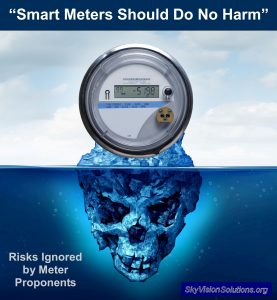 The SMART METER Advert
Normally, I like children, but that advert puts me into sadistic, mad-axeman mood and if I were any less restrained, would've had the coffee table hurled at light-speed through the TV screen.
"I want to live in a world where there are polar bears"………… FUCK OFF YOU LITTLE TWERP…. I want to live in a world where I can feed your smug-Islington-faced body to the fucking polar bears.
Then another two giant children, (naturally a gender-balanced boy and girl), lie down on the landscape, under the wind-turbines. The thoughtless cunts just wiped out all wildlife and crushed the woodlands under their huge bodies. Heres hoping that the windmills are actually ALIEN ROBOTS that then uproot themselves and chop the smarmy giant little cunts to pieces, leaving the landscape awash with giant blood and guts. "I want to live in a world where the air is clean"… IT IS CLEAN, cleaner than it's been for 7 fucking centuries at least, especially in the cities… NO power stations, NO heavy industry, NO open coal fires, catalysed vehicles, you can even see the horizon.
Then there is another giant kid running next to the power lines. RUN INTO THEM for fucks sakes and give us a break from this propagandist SHITE.
But THE WORST is left for last, a kid in a rainbow top, with a mouth full of metal on her teeth, standing on a fucking balcony, in a CONCRETE JUNGLE, people stacked on top of one another, no grass, no gardens, no parking, no safe open spaces, looking in open-mouthed, starry-eyed wonder at the giant CGI butterflies, that I hope are carnivorous, drag her off the balcony, and lay eggs on her for their giant larvae.
And what is this load of emotive WANK promoting? SMART METERS, that for the propagandized millions, are touted as "saving the planet/polar-bears/butterflies" by saving energy and saving the future for our preshhhhhhhuuuuuussssss chiiiiiiiilllllllldrennnnn. yep, invoke "the Children" in order to get us stupid adults to have even more of our diminished freedoms and enjoyment stolen from us. Christ, if those brave men who laid down their lives 75yrs ago could see us now, they'd weep. On the other hand, with the speed they must be turning in their graves, we could generate enough electricity to power the planet.
Which brings me neatly to the main subject, the actual "Smart" meters. The £400 a pop "Smart" meters DON'T save you ANY electricity and CANNOT save you any. An energy usage display can be fitted in ANY house and costs a few quid. OK. theoretically, it stops "estimated readings", but really, who apart from a few souls, really gives a fuck? Besides, the first generation meters go "dumb" if you switch suppliers. The REAL: issue is that these abominations contain a "Smart" remotely controlled SWITCH a large set of contacts the utility or government agency can turn off by remote control. The meters also contain a SIM so that they can communicate with the utility, government agency etc via the mobile network, Vodafone in this case. Even the "Smart" GAS METER does this.
Which brings me to the final point: Do you remember when the government, GreenPiss, the Friends of No-One etc told us that we should switch our TVs OFF due to the 1-watt idle current?? Well here it is ALL no-analogue (spinning disk) meters consume 2-watts just to operate, EVEN the new "Smart" GAS METERS that previously used NO electricity.
As most electricity meters are now digital, there are about twenty MILLION in use, consuming FORTY MEGAWATTS whereas if we had the older analogue meters, the wastage would be less than a tenth. With about FIVE MILLION "Smart" gas meters at 2-watts, that's another TEN MEGAWATTS just to power the "Smart" digital meters. FIFTY MEGAWATTS in total and that's on top of all of those MAINS POWERED DIGITAL DISPLAYS at about a watt each, PLUS the power for the digital circuitry on "Smart" thermostats, light switches etc that are active all of the time and increasing in number. We are probably in the region of 70-80 MEGAWATTS just on monitoring circuits and paranoia-inducing energy consumption displays, even those annoying "Ring" "smart" doorbells cansume a watt or so.
Despite all of this "Green" "Smart" cuntritude, we haven't built a single fucking NEW POWER STATION IN DECADES, to power all of those new gadgets, rathole dwellings, HS2, data-networks, which if we have a blackout, we are FUCKED.
How many ill-educated, paranoid saps have bought into this "Smart" shit to "save the polar bears" when the reality is that the utilities are facing massive FINES next year for not hitting the "let's put a remote switch in people's homes" target, fines that twill be added to OUR FUCKING BILLS.
There is NO legal requirement to have one of these RF radiating abominations and if your utility says there is, GO ELSEWHERE.
AS for that fucking cunt of an advert, I stand by every word. "Smart" Meters for Dumb Cunts.
Nominated bySheikh Anvakh (Imam of all Cunts)