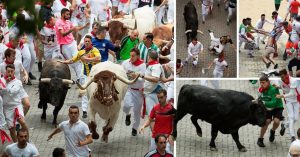 The Running of the Bulls in Pamplona is a horrible cuntfest, isn't it.
During the nine-day San Fermin fiesta, six bulls are run every morning in the city's narrow streets and then killed in afternoon bullfights. Most tourists who go to the festival in Spain seem oblivious to the fact that these animals will be dead in just a few hours.
Each morning, a rocket is launched to terrify the six already anxious bulls so that they'll charge onto city streets lined by drunken, screaming fuckwits who frequently hit them as they pass. The panicked animals slip and slide down the narrow streets and often smash into walls, sustaining broken bones and other injuries surrounded by the constant violent atmosphere.
The entire spectacle is really a death march.
Every evening, one by one, the bulls are forced into a bullring. The first cunts to lance them are the picadors; the second cunts are the banderilleros who also make the bull run in circles until, dizzy, disoriented, exhausted, and weak from blood loss; finally, the matador cunt enters. Not at all a coward, thus "courageous hero" stands over the bleeding, exhausted, dying bull and stabs him to death before demanding applause.
This execution of an innocent animal is called culture and entertainment
Nominated by Captain Magnanimous