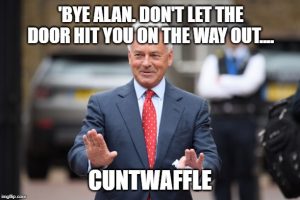 Pre-emptive strikes – or to be more precise, pre-emptive resignations.
Yesterday, following hot on the heels of recently honoured cunt Spreadsheet Phil, Sir Alan Duncan went a stage further than threatening and actually resigned from the government that hasn't been formed yet because he can't serve under the leader who hasn't actually been elected yet.
His reason? So he can table a motion of no confidence in his own party presumably because they might actually elect a leader by an overwhelming majority who doesn't agree with him.
Ignoring the fact that only the Leader of the Opposition can table a no confidence motion, how can anybody be so totally stupid as to want a no confidence motion in a government that hasn't been formed yet?
Surely he should now resign from the Conservative Party as he refuses to respect the majority wishes of the membership. No? Well, what would you expect from a remainer?
Siralan, you are a cunt
Nominated by Pedantic Cunt
Alan Duncan is deserving of a cunting. I'm sure he's been nominated before, but he definitely deserves another one.
Today, (Monday 22 July) Duncan has resigned as Foreign Minister, because he can't bear the thought of being a member of a Boris Johnson government. What a drama queen. Apparently, he's also sulking because that other monumental cunt, Bercow, turned down his request to make a statement in parliament. I think we can safely assume that his statement would have been nothing more than an anti-Boris rant. So for once, Bercow has actually done us a favour.
This guy is so full of his own importance he's almost a caricature of himself. Why would he even assume that Boris would want him as a Minister in his government? I wouldn't even give him a job as tea boy. If the thought of Boris is so repulsive to him, why not just quit as an MP? Oh yes, the overly generous salary, plus expenses, that's why. This jumped up little cockwomble really needs taking down a peg or ten. He really isn't that big a loss anyway.
Nominated by Quick Draw McGraw