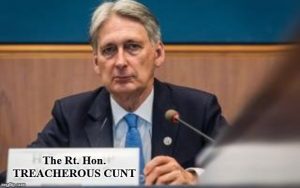 This poor excuse for a man has to be the cunt of the week, if not the year. The purse-lipped, floppy haired piss and shit stained failure orchestrated yesterday's parliamentary stitch-up not allowing a no deal Brexit, yet didn't have the guts to vote himself. The foul little Judas literally made the bullets for others to fire:
https://www.telegraph.co.uk/politics/2019/07/18/tory-leadership-latest-mps-considerresigning-stop-parliament/
He is a coward of the first water, a snivelling little Establishment turd and like every turd ought to be flushed into the sewer. What a cunt.
Nominated by W. C. Boggs