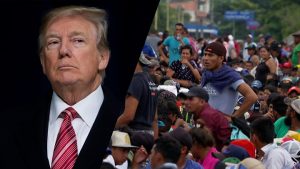 Today there are multiple stories about the conditions in US migration centres, overcrowding, lice infestation, hygiene, this is coupled with a photo of a father and daughter found dead face down in the Rio Grande.
This is all Trump's fault of course; nothing to do with migrants choosing to enter the country illegally, nothing to do with many of them having traversed other South American nations en route, nothing to do with the migrants taking risks with their kids' lives and their own.
What's the President meant to do? Build holiday camps for them and attract thousands more? Let them in and give them citizenship just because they show up? At some point even the most liberal lefty will realise you have to say 'no more'.
The much less publicised side of this story is the crime committed by many of these migrants, from traffic violations to rape and murder. There are many cases if people care to look.
Trump isn't a great bloke, he has some real issues but that doesn't make him wrong about everything.
Immigration must be controlled or it is invasion. I get people want to escape from shithole nations and start a new life elsewhere but the reality that's plain to see is they mostly don't start a new life, they bring their old life with them but now they are protected under human rights and similar BS that merely provides a protective umbrella, these South American cunts laugh at US laws.
The truth is some US companies want cheap labour and the Democrats want voters, and both groups are prepared to fuck the American dream to get what they want.
All this really should not bother me, apart from the whole fucking shit show is mirrored in Europe with Africa providing the constant flow of migrants.
I don't have all the answers but I don't see the people we elect to protect our best interests looking for solutions either.
They can blame Trump for the bodies in the river and he shitty conditions in detention centres but if these migrants were not being encouraged the overcrowding and deaths would decrease. There are millions and millions of people across the world living in shithole countries and if the current policies continue sooner or later they will be heading our way.
Nominated by Sixdog Vomit