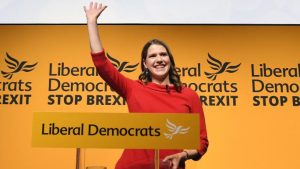 Some fucker has been elected leader of the LibDems.
I imagine the stink of piss and cabbage from Vince is getting to them. She is going to stop Brexit apparently. She is also going to be the next PM, or so she says.
'Go back to your constituencies and prepare for office'
That was the equally deluded chant of these fuckers way back when.
Nominated by Cuntstable Cuntbubble
The Liberal Democrats must be the most inappropriately named party in British politics. They are neither liberal nor democratic.
Yesterday some cunt we've never heard was made leader in an election nobody noticed. And now this deluded idiot reckons she's going to be the next Prime Minister. Nigel Farage has more chance of being the next Prime Minister. Just look what a fuck up these tossers made last time they were in government.
Welcome to the Peoples' Democratic Republic of Great Britain…
Nominated by Dioclese