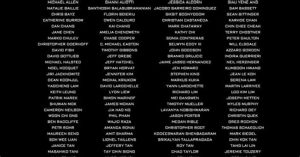 Film Credits
A megadump of hippo manure for those never-ending credits at the end of films nowadays. Best grip, dubbing mixer, whatever the hell they are, plus hair stylists, assistant hair stylists, caterers, drivers, electricians, dialect coaches etc. All followed by every copyright detail for any piece of music that has appeared. These lists can go on for 20 minutes. The credits for "Iron Man 3" included more than 3,700 names plus 24 special-effects companies.
I recently saw quite a good film called "Arctic" which had three actors – one of whom was dead and the other so injured she could only groan. They were stuck in the middle of nowhere and the main actor literally did not utter a sentence – just the occasional curse or cry of pain and despair as he waited to be rescued. The only other "voice" was a polar bear that made a few growls. Yet the list of credits went on and on as if the film had has a cast of thousands.
What´s the point? Is it vanity so these nonentities get a thrill out of seeing their names up there? Is it a way for the producers to skimp on paying them by offering them free advertising in the hope they will pick up clients?
Nominated by Mr Polly