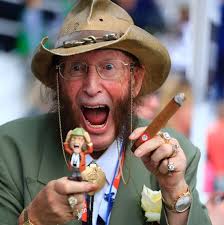 Congratulations to me (Shaun ) who correctly predicted that Horse racing pundit John McCririck would be the next dead cunt.Famed for his mutton chops cigars political incorrectness and his wife the Booby.He was 79.
On to DeadPool 133:
The rules
1) Pick five cunts you think are on the way out. No duplicates allowed. Anyone who nominates the worlds oldest man or woman is a cunt and will be ignored.
2) It is first come first serve. Only comments on this thread will be valid. You can always be a cunt and steal someone else's nominations (Like Black and White frequently does.
3) It must be some newsworthy cunt we have actually heard of.
The usual our blog our rules policy applies as always.
My picks (Shaun of the Dead 69):
Brendan Grace
George Alagiah
Vincent Lambert
Clive James
Fernando Ricksen