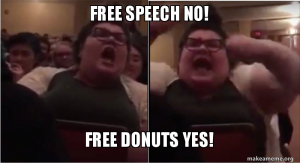 Trigglypuff
I reckon that IsAC regulars always enjoy a bit of light relief, and this nomination is made with that end in mind. You may or may not have heard of Trigglypuff, so allow me the honour of introducing you.
A couple of years ago, the University of Massachusetts hosted a debate entitled 'has political correctness gone too far?'. During the course of the 'discussion', a barrel of lard fat fuck feminista in the audience went into a raging meltdown, hurling abuse at the panel on stage. This earned the beast the nickname 'Trigglypuff', presumably due to the ease with which it became 'triggered'.
Luckily the episode was caught on camera, and has since, as they say, 'gone viral'. Trigglypuff has become an internet legend, proving to be a source of amusement and derision for cunters everywhere to savour. So allow me to present Trigglypuff, the truly repulsive face of SJWs everywhere;
Now some of you, like me, may be wondering what has become of the specimen since it made such a public spectacle of itself. Well, one rumour has it that it was last spotted mating with a blue whale off the coast of Newfoundland. Another suggests that it was harpooned by a rogue Japanese whaler, and kept that nation supplied in whale meat and industrial oils for a month. It's also been claimed that on a particularly hot day, it scratched itself and spontaneously combusted, burning with a luminosity so fierce that it was visible to the orbiting space station for three days.
Truth is, I for one don't know what became of Trigglypuff, so if you're aware of its current whereabouts, please inform us immediately. The people have a right to know, if only to enable us to relish the sight of a complete and utter cunt in full flow once more. Bring it on Trigglypuff, these days we're in need of a good laugh.
Nominated by Ron Knee