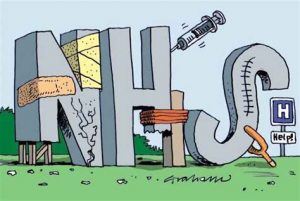 I would like to nominate the NHS for a solid cunting.
Now, before piss gets flash-vapoured and shit starts hanging sideways, please allow me to state some crucial clarifications:
1) I am in no way cunting overworked, decent honest healthcare professionals
2) The cunting is aimed at the NHS as a public body and how it is failing the indigenous population at large
3) I am well aware that interfering politicians have used and abused the NHS for electoral manipulation and vested interests. However, the topic is vast and there are nevertheless plenty of cunts within the NHS itself, and I am restricting the scope of this cunting accordingly
So….
Why am I cunting the NHS. How could a patriot like me even dare to nominate such a cornerstone of British history?
Quite easily, as it turns out. The NHS, thanks to incorrect prioritising, terrible management and a refusal to embrace reform is no longer fit for purpose.
Now, the influx of NHS tourists, lobbas, goatfuckers and all faecal shades of brown between is undoubtedly straining the NHS. The rapid population increase is not something I can blame the NHS for, of course. But the fact that the NHS has such an abysmal policy of treating all comers, and an even more pitiful method of trying to recoup money from non-nationals is definitely down to their cuntliness. The procedure for collecting debt is tantamount to asking non-English speaking recipients from abroad "Can you pay for your treatment? No? OK then. We'll carry on treating you anyway."
The immigration health surcharges and supposed fees payable by non-British recipients is recouped in less than a third of fucking cases – I implore you to watch the BBC documentary 'Hospital' (yes, BBC, but even broken clocks are right twice a day) to see how conniving the foreigners are and how fucking lily-livered the NHS is in collecting these payments. I'm frankly amazed that the BBC allowed this programme to be commissioned.
Remember how many times the NHS managers told us that post-Brexit, even a slight reduction in immigrant applicants to join the NHS would cause total meltdown? On the very, very broad assumption that their claims are not exaggerations, we have to ask ourselves – why does the supposed best healthcare system model of all time need to rely so heavily on non-English speaking people imported from the Third World? Surely the problem in this instance is with the recruitment process, the conditions and in my opinion, the ridiculously low pay for nurses and assistants.
And let us not forget the sheer array of consultants to the NHS (not to be confused with medical healthcare consultants) employed at any and every opportunity – overblown IT projects, management, supplies, cleaners, maintenance and so on. As much as successive governments have fucked up, the NHS itself has been woefully impotent in dealing with rotten practices at its core.
Does the NHS need to go private? No. Does it need reform? Absolutely.
As long as the situation exists where Africans can jet into the country and give birth, without enforcement of insurance or fees, with no obvious contributions into the system and receive the same – if not better – care than you, then the NHS is a cunt. Period.
Nomination by The Empire Cunts Back