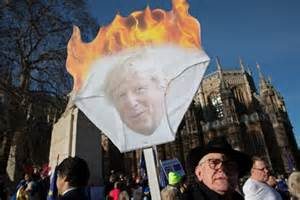 Boris is the new Trump  As if we needed one. Boris seems to be getting the same media ridicule as Trump. Easy target I suppose. Like Trump, he is a cunt. And full of shit. But he seems to infuriate the lefty, liberal right-on cunts who also hate Trump and were up Rory Stewart's arse. All of which puts him up in my estimation. And given that the alternative is 'great negotiating skills' Hunt, who fucked up the doctor's negotiations and imposed an unworkable system on the NHS, perhaps Boris is the man. Who knows, he might sort things out?
Nominated by Cuntstable Cuntbubble
Emergency cunting for Boris Johnsons neighbour.  Boris and his girlfriend had a row at their place like couples do. Turns out one of his neighbours called the police on him, recorded what they could through the wall, and took the 'evidence' to the guardian. Now call me cynical but what are the odds of this neighbour cunt being a labour-supporting remoaner? I bet this busybody sadcunt has been keeping their ear to the wall for months and years hoping to get some dirt on Boris and help revoke article 50. We've all had to put up with nosy no-life cunts with nothing better to do but complain but imagine living next door to some pathetic weaselly bearded libtard spy out to get you. A cunting on moaners, grasses, and interfering neighbours everywhere.
Nominated by MandroidZ