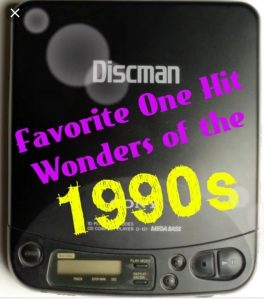 1990s 'One-Hit Wonders' are absolute cunts.
Inspired by a mini-thread on a recent cunting, I quickly realised during that discussion just how much utter fucking detritus was passed off as 'music' in the decade which cunting forgot.
It is apparent how the roots of today's manufactured dross, over-sampled sterile bollocks, synthetic musicianship and low-IQ lyrics can be traced back to the 1990s. What is worse is how many arseholes online (go to any YouTube video and the associated comments have to be read thrice to be believed) are wistfully recalling these 'songs' through the rose-cunted spectacles of nostalgia as 'real music'. I guess that's a pretty fucking damning indictment on today's liquid shite.
Whilst there were a handful of decent 90s guitar bands on both sides of the pond – post-Cobain and post-Factory Records – Euro dance and childish puke stole the show, and the few credible artists standing were buried in its flow.
So, consider a smorgasbord of cunt-hit wonders for your troubled memories to feast upon, yer bastards:
Whigfield – Saturday Night
Eye-gougingly infuriating Euro-fuckery which DJs at the time played until the CD plastic warped, and ear-marked the mid-90s years as sheer aural hell.
Freak Power – Turn On, Tune In & Cop Out
One of many '90s OHW which owed thanks to publicised jeans and fashion brand adverts. The song itself wasn't so much bad as badly overplayed. The accompanying advert from memory featured an Uma Thurman tranny lookalike fucking around in the back of a taxi, while the bald driver struggled to drive with a raging hard-on. Or something like that.
David Gray – Babylon
"But this wasn't the 90s!l" Actually, it was. Wobbly-headed cunt Gray tried releasing this in 1999 but for once, the music-buying public turned up its collective nose at this tinpot troubadour's ode to stalking unsuspecting women on the streets of London. For whatever reason though, it sold by the boatload upon the 2000 re-release and criminally raised Gray from his rightful place as shitheel busker to household name.
Babylon Zoo – Spaceman
I had, by miracle of miracles, managed to purge this shite from my memory until an esteemed cunter brought the hideous memory back to the fore. Another Levi's adopted abomination, the original song was actually a droning, tortured indie-inspired bag of wank, sped up to dance tier beats-per-minute for the advert. I seem to recall the lead singer got pissed off at people loving the distorted version over the original, and through successive interview wankery, became, quite rightly, a figure of ridicule.
Cornershop – Brimful of Asha
Brimful of fucking sileage, more like. Some arsehole crooning about an Asian film star, with extra added Norman Cook bollocks, seemed to find its way to the top of the charts for what felt like an eternity. Was followed at no. 1 by another abomination, that fucking Run-DMC vs. Jason breakdancing goatfuck of a record.
Scatman John – I'm The Scatman
Thankfully released in a more innocent age when 'scatting' was recognised rap-talking jazz vocalisation, and not mere depravity pioneered by Japanese sickos, this stuttering old cunt managed to capture the imagination with his nonsensical, machine gun gibberish. Probably the one fucker on this list who I don't begrudge getting some measure of fame due to his legit disability. Lived life to the full post-fame before eventually scatting himself to death.
The Doop Song
This genuine low-point of musical history was 100% cunt. Nothing more to be said before slamming the morgue door shut on this one.
Crash Test Dummies – Mmm
A song so fucking stupid and lyrically bereft that I actually feel my IQ reducing whenever I hear it.
OMC – How Bizarre
People from New Zealand should stick to fucking sheep and playing rugby. This ballad about three kiwis driving their Chevy into a literal orgy of circus clowns and news reporter should never have broken international quarantine. The lead singer is dead now, so there is at least some justice.
Deep Blue Something – Breakfast at Tiffany's
Between this tawdry fucking effort and the truly never-ending Galaxy chocolate advert, the Audrey Hepburn classic film has been ruined permanently for me. I remember travelling back home from visiting relatives on a four-hour coach journey with a migraine, and then this shit came on the radio. Needless to say, I threw up.
As I write this nomination, I realise the list is truly endless. The 90s was the ultimate decade for every two-bob chancer to have 5 minutes in the spotlight. For once lads, I've cunted off far more than I can chew with this one.
Nominated by The Empire Cunts Back