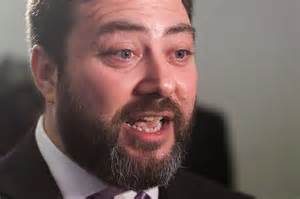 Sargon of Akkad, aka Carl Benjamin, Youtube personality and UKIP MEP candidate, is a cunt.
This is one of those instances where I find myself nominating someone who I hold some affinity or respect for. I follow this guy on YouTube and have done for a few years.
Benjamin is currently an MEP candidate for UKIP in the SouthWest, and is making tabloid headlines right now for his 'rape' tweet made three years ago to major cunt Jess Phillips. In context, Benjamin at the time stated to Phillips that 'I wouldn't even rape you', as an edgy joke response to Phillips' claim she got rape threats on a frequent basis. This comment has recently been dug up by the media, both to denounce UKIP and, where applicable, to give positive traction to Labour.
That tweet itself, to me, is not particularly outrageously offensive, especially in context. Rape jokes are, or were, common with mainstream comedians. And a word must go to the conniving cunt Jess Phillips who at the time, did not express any notable concern at the comment but three years later revealed how it left her "crying in the street".
However, Benjamin has really fucked up on the following:
Going for the media red-blooded by calling them names at a UKIP press conference
Acting fairly fucking smug and arrogant in interview
Unbelievably, he stated a few weeks ago that he 'might' rape Jess Phillips to 'test how the media would react'
Causing his YouTube channel de-monetised, linked to the above no doubt, meaning he no longer gets revenue for his content which he himself has said is relied upon to support his family
Almost single-handedly torpedoing any possible UKIP resurgence.
The whole debacle has shown why people popular on YouTube rarely translate well in the more conventional forms of media. What works in an online format for his type of audience will only ever translate badly in interviews or press coverage. He has gone about his campaign like a flailing autist and just deliberately antagonised the media into hounding him. I'm not saying he should pander to the media at all but there's always got to be an element of forethought, especially considering the media influence during elections.
I wanted UKIP to get back to where they were in 2015 as a viable alternative party, one with policies and more grounding than The Brexit Party and one which millions of disillusioned voters could gravitate towards over the whole Brexit issue. Sadly, UKIP seem to be the same shambles as they were when Steven Wolfe was photographed spark-out on the floor with his briefcase.
I agree with Benjamin on much – the damage from feminism, millennial stupidity, the lunacy around diversity, immigration, the EU – but it was a grave mistake for Gerard Batten to blindly believe that Benjamin's online presence alone would bolster UKIP as an MEP candidate. The cunt should never have been allowed to appear outside of his YouTube channel.
So with heavy heart, Sargon of Akkad – you are something of a cunt, my son.
Nominated by The Empire Cunts Back