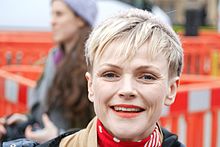 Maxine Peake is a cunt.
Can often be heard on the radio pushing the governments agenda of fitting smart meters to our homes.I don't want my energy usage to be spied on so that the companies can profile our usage and then bung up the price when we use it the most.
Stick to your day job of acting and stop taking the 30 pieces of silver for doing the governments dirty work.
Gobshite!
Nominated by Crusty Flaps