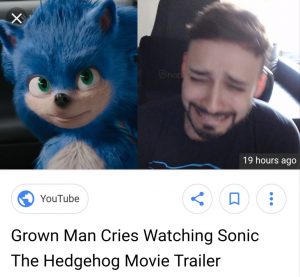 Kidults are cunts.
The definition of a kidult is:
kidult (plural kidults) (informal, marketing, sociology) An adult who participates in youth culture and activities traditionally intended for children.
Why have they suddenly pissed me off?
Because I am surrounded by work colleagues who are eagerly watching trailers on the their mobile phones for…
…the Sonic the Hedgehog movie.
Cunts. Utter, utter, utter cum gargling cunts.
Is this some kind of joke? I'm afraid not, I'm being quite serious.
And I quote "that looks fucking awesome", "I'm definitely going to see that", "it's Sonic innit?".
I can't believe it. These are grown adult men. The youngest is 28. Their idea of entertainment is a fucking cartoon hedgehog.
It used to be just the fucking nerdy neckbeards, but now it's every cunt. They're playing games consoles, they're watching The Avengers, FUCK OFF ! Fucking spandex lycra peedo bullshit. Any shiny computer generated circle jerk over the same soggy biscuit and these cunts are there.
Why aren't they fixing shit, breaking shit, learning shit, buying powertools or simply drinking beer?
Next thing you know there'll be a movie about snake (famously featureless early nokia mobile phone game) and these cunts will be all over it, cumming in their pants at the CGI and revelling in the brand spanking new low that binds their feeble minds together.
I've tried to get them on a basic diet, things like "13 Tzameti" or "man bites dog" but their tiny minds still harbour suspicion.
I'm living in a cultural wasteland, and these cunts are the dead trees.
Nominated by Cuntflap