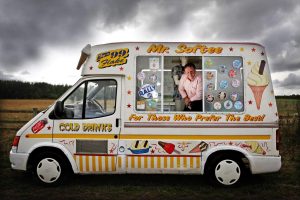 Ah, Spring is in the air. Mild, sunny weather, the cheerful chirruping of the birds, the soothing drone of bees. There's an explosion of colour in the garden, and I've spent the afternoon pottering about there. It's time to collapse onto my sunbed and enjoy a glass of cool wine.
But what's that? Oh no! Here they come, those cunts on four wheels, awakened from their winter hibernation and cruising around the neighbourhood grinding out those jangling chimes that are guaranteed to remove the wax from your lug holes and set your teeth on edge. Ice cream vans. Or should that be I scream vans?
There's the cunt that blares out the theme from 'Dr Zhivago' every ninety seconds. There's one who lets rip with 'you are my fucking sunshine'. There's another cunt who gives it large with 'boys and girls come out to play'. Over and over. Every ninety seconds. No sooner has one faded blissfully away into the distance than another twat rolls up. The cocks must operate on a rota.
'Boys and girls come out to play'? Here's one boy who'd like to, with a grenade launcher and an AK-47. Ice cream? It would be a fucking case of eat lead, sucker, and peace in our time.
Nominated by Ron Knee