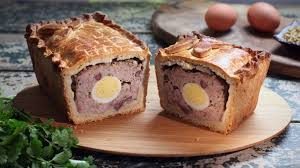 Butchers who try to rip you off when you buy a couple of slices of Gala pie are Cunts.
I was up on the Scotch side today and stopped at a small, award-winning, family butchers. I asked for a couple of rump steaks,some Lorne sausage,black pudding and burgers. It certainly wasn't cheap,but looked good. As she was bagging it up,I got my eye on some Gala pie and asked for a couple of slices, she lifted the loaf down and cut a couple of slices with her back to me and wrapped them up…but,unfortunately for her, I'd seen that she'd used the crusty end bit as one of my slices. When she put the wrapped package on the counter and asked for the money, I unwrapped it in front of her,and poked at the crusty slice….
"I don't want that,it's got no egg and is mostly fucking pastry"
"Oh, I didn't realise…a lot of our regulars like the end-bit"
"Well, I fucking don't…especially at your prices."
The old shrew pulled that disapproving,pinched face that only a true Scottish woman can manage,sighed loudly,and sliced a fresh slice….Fair enough.
As I was driving back,it just reminded me of when I worked down in the Lake District in the eighties. Some of the pubs operated two price lists, one for locals and one for tourists. Didn't really bother us because they knew that we weren't tourists and they made good money anyhow out of a dozen big drinkers coming in most nights for a meal and a sup,but I'd occasionally hear strangers questioning the prices that they were being charged when they heard what a "local" was paying compared to what they'd paid….must admit, if they'd tried it on with me,I'd have played Holy Fuck,but most tourists just meekly accepted it.
It also minded me of the dark-skinned shopkeeper who tried to give me change for a tenner when I knew that I'd given him a twenty. As soon as I saw what he'd given me, I said "How…ye",before I said another word he gave me the missing tenner. He knew exactly what he'd done, cheating Cunt.
Fuck Off.
Nominated by Dick Fiddler