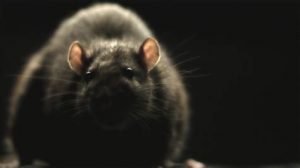 Most people will be familiar with Orwell's nightmarish dystopian novel 1984, and will recall the horrendous moment when Winston Smith is forced to confront his greatest fear in Room 101.
Rats.
A couple of days ago I got a taste of Smith's revulsion when walking in my local park at the onset of twilight. Following the course of the brook, I was suddenly confronted by a line of half a dozen of these verminous, greasy-looking bastards almost under my nose. Within seconds they had scrambled madly off into the undergrowth and disappeared, leaving me to continue along the path with a shudder and a longing for an air rifle.
The demolition of some abandoned school buildings has begun nearby, and I reckon that the disturbance panicked the horrible cunts and forced them to break cover. God knows how many millions of the pestilential fuckers there are in existence, but they've been spreading destruction and disease from here to Timbuktu and back for as long as anyone can remember.
Next day I met a friend for coffee, and related the unsavoury experience to him. Lo and behold, I found the undernoted from him in my e-mail later.
I must admit that it's enormously satisfying to watch these fat cunts get popped. It's guilt-free hunting. Nice shootin' guys, and keep up the good work. The more of these bastards that get wasted the better. Death to rat cunts everywhere.
Nominated by Ron Knee