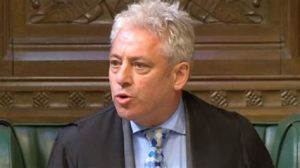 John Bercow.
This smug, biased, inflated windbag has just (14/3, 1350) declined to include an amendment, ruling out a second referendum, to tonight's motion on extending Article 50 (if the EU will kindly allow us to do that at all)
Mark Francois, vice-chair of the European Research Group of Tory Brexiteers, said: "It had far more signatures than any other amendment on the order paper, and had three different parties supporting it."
Senior Tory backbencher Sir Bernard Jenkin questioned if Mr Bercow's personal views on Brexit had coloured his decision.
You bet it bloody did. He allowed a motion calling for a second referendum at the same time, the shameless partisan cunt. Who has never disguised his Remain partisanship, and is undoubtedly counting the days until a lucrative EU sinecure drops into his obese lap.
Another one for Traitor's Gate, and I am sharpening a pike for his fat unethical head. Such a parcel of rogues in a nation, as our northern neighbours remarked when their own kingdom was sold by similar cunts.
I will detain you no longer. Bercow is a platinum, VIP-lounge cunt.
Nominated by Komodo