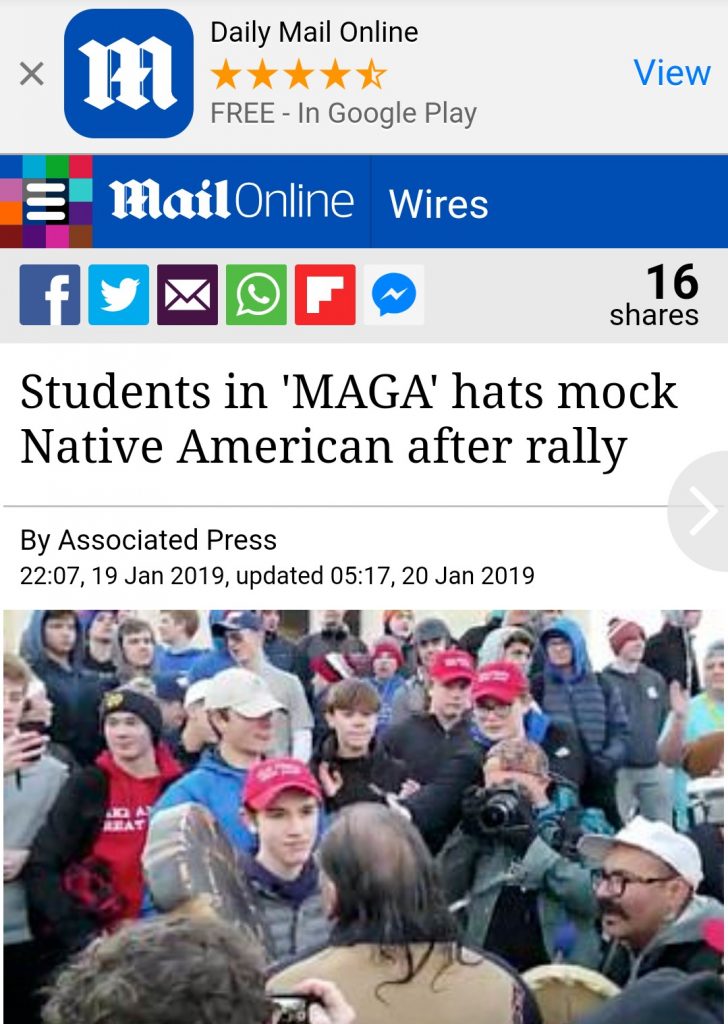 The Daily fucking Mail.
Aside from the sidebar of irrelevant TOWIE/Kardashian cunts, and aside from the editorial switch to Pro-May, pro -Remain, they're turning into another copy paste clickwank site for lib-left outrage like the Huff post.
Deciding to take CNN's word on a story about a Vietnam veteran and Native American banging a drum on a protest and singing um-pappalappiom, and being confronted by a young man in a MAGA hat, who decided not to move.
The student's crime was to stare at the veteran, making the hero feel uncomfortable and blocking his 'retreat', despite getting closer to the young man, who also dared to look 'smug'. His friends were 'mocking' the veteran by singing and having a jeer, but no eggs, bottles or punches were thrown (see AntiFa for details).
Gladly, not many commenting agreed with Mail and CNN's version of events, and there was no audio of the crowd shouting 'build that wall' on the featured video, just our hero's say-so.
It doesn't surprise me that 'stars' have come out to condemn the students. They've no doubt been ordered to by PR and flunkies.
We're outraged at it all, darlings… where's my Champagne and Colombian spritzer, Consuela?
Consuela! Are you like, the fucking ' help' or whaaat?!'
Fuck the new libcunt Daily Mail and the vapid cunts who make a habit of reading it.
Also, please someone tell Peter Hitchens to set sail to Telegraph Island.
Nominated by Cuntamus Prime