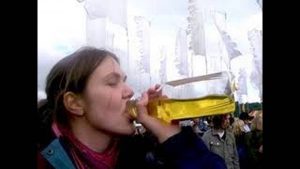 It seems that there are a lot of people about who are taking the piss. Literally. According to that fount of knowledge 'The Remoaniad', five thousand members of the group 'Urine Therapy' regularly bathe in, wash with, or drink their own piss.

This gives a whole new meaning to the expression 'taking the waters'. Unsurprisingly, there's absolutely no scientific evidence to support this 'therapy'; it's quackery pure and simple. I'm just surprised that given the number of mugs about, some enterprising soul hasn't bottled his own waste and flogged it to punters as 'Old Mother Hubbard's Therapeutic Elixir' or something. Cures worms, verrucas, piles and constipation. Ferment it, and you've got this year's must try drink for wine pseuds to eulogise over; 'Chateau Neuf de Gypsy's Kiss'.
Now I'm the first to admit that I've necked some rough stuff over the years, assorted beverages that may, in colloquial terms, be likened to drinking piss. But there's a line drawn in the sand which I reckon isn't to be crossed. Unless, of course, some odd but brave soul will put his hand up to sampling some of the amber nectar, and is prepared to come on and share his experiences.
After all, it takes all sorts…
Nominated by Ron Knee