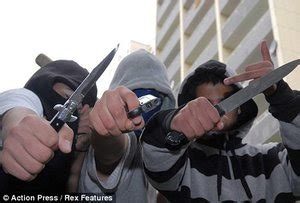 I nominate stabby little london gangsta wannabe cunts. Or any other little gangsta cunts are welcome to this cunting.
Who the fuck do they think they are?
These cunts are more worthless to society than a queef emitted from their mothers cunt. Amazingly the best bit of them ran down the crack of their mums arse.
I think we should start packing them off to the west country for a little holiday.
Here in the west country we could teach them a thing or two about the error of their ways.
Fuck stabbing things, knives are used for skinning things round ere.
I reckon we have got more guns than these gangsta cunts too, and we are used to shooting little things like rabbits so there is no way we could miss a gangsta scroat running across the fields.
Good sport on a Sunday I reckon. Send these gobby little cunts down. What use are they?
Fuck fox hunting, it's cunt hunting from now on. Give em both barrels.
Nominated by Cuntswhallop