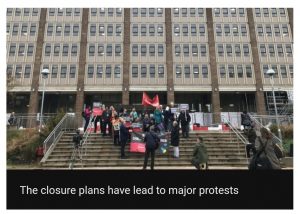 Norfolk County Council:
I apologise that this is lengthy and isn't about Brexit, Owen Jones (a massive cunt) or any other cunt that needs nominating, but I need to vent.
The ruling Cuntservative bunch of self serving parasites at NCC have really managed to make themselves look complete and utter cunts in the last few days and are boiling my piss to the max.

Why? Well because for a kick off they are cutting services left right and centre in the hope of making what are really meagre savings, especially with childrens services and anything involving the vulnerable. Savings that could easily be made if they went back to employing their own staff and managing their own affairs, instead of farming out every service going to any Tom Dick or Harry wanting to make a fast and easy buck. Just one company alone made £450,000 profit from them last year and many more rake it in at our expense, money that could be used in front line services. Now in a typical cuntish way to kick the vulnerable and incapable even further into the dirt, these despicable cunts have voted to take disabled benefits into account when calculating care costs for those that rely on help the most, especially children, some of which have said it will force them into food banks. This extract from the local paper:

"Their proposal, which would save County Hall £4m, would change the 'minimum income guarantee'used by the council to assess how much people aged 18 to 64 pay for care. At the moment, the council uses a rate of £189 a week for everyone, but wants to change that to £123.45 for those aged 18 to 24 and £151.45 a week for those aged 25 to 64."
So, £70 a week loss for some, especially the youngest, not that they give a shit, heartless cunts. Now heres the piss kettle getting switched back on: The twats have announced that some £60m will have been spent on refurbishing the County Hall since 2013 because they say it needs it. (story here: https://www.eveningnews24.co.uk/news/politics/extra-24m-added-to-bill-for-county-hall-revamp-1-5856449)

£60m would have built a lovely new building I am sure. Of that figure, some £24m is being spent on refurbishing some areas for space that they say needs renovating to close down and sell existing buildings to bring those staff back into County Hall. A move that will save £400k a year. CUNTS! Even with the predicted £1.1m from building sales that means a payback of almost 55 years. What cunt figured that fuck up out? Bear in mind that of all the cuts they have sanctioned in the last few weeks, none match up to this hare brained financial clusterfuck in monetary terms.

And to really nail it today, despite communities crying out for traffic measures or other desperately needed work in their areas, these cunts that spout the usual 'value for money' garbage, have announced less than 24h after the Royal Gaffer rolled his fuckin' chariot that they are going to reduce the speed limit on the A149 where the old git crashed the bastard! Theres nothing left to boil! Fuck them and their 2.99% tax rise. Cunts.
Nominated by The Eternally Grumpy Grump