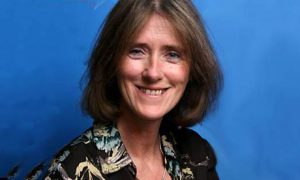 A You & Yours, Sorry I Haven't A Clue, Just A Minute , Saturday Live cunting please for this woman who has announced her resignation as Controller of Radio 4 after 8 years in the job. She would have avoided this cunting had she made this wise decision 7 years ago, but her tenure has been marked by a bevvy of shitty wimmins interest programmes, miserable plays about slavery, American wimmin voiced by British actresses who sound like bleeding Victorian poets.
8 more years of the gobshites of The News Quiz and The Now Show, late morning comedy shows devoid of any humour whatsoever, witless talk shows, including one that sounds as if we are entering the fairy grotto, judging by its signature tune, where for 5 minutes two members of the public witter on about matters only of concern to themselves (if even that), 3 times a week with a repeat on Sunday of all 3 years of the sanctimonious bellend Micheal Burke (how apt) with his Moral Maze, which, maze like never ends, the provisional wing of R4 mornings, Wimmins Hour, which though around since god was a lad has got ever more strident and right on in the past few years, and the current affairs wall to wall fuckdom that is relentlessly ever more anti-Brexit, including the Remain lousy panels and audiences that make up every Any Questions?.
What fucks me off about this old bag is that in her farewell message today she has had the fucking cheek to say she has not dumbed the station down, but smartened it up. Smart? The Rev Richard Coles, Wing Commander Jenni Murray, Jeremy Hardy, Miles Jupp, pompous little arsehole that he is, Paul Merton, the miserable sanctimonious "writers and broadcasters" who give their left wing views on every subject under the sun. What a load of fucking shit, as Nan Taylor used to say.
Nominated by W C Boggs