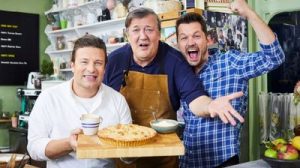 Just been watching a pile of wank in which Jamie Oliver (bloated tongue dribbling cunt) has been making an apple pie with that mincing queen Stephen Fry at the end of Southend pier, courtesy of the above mentioned broadcaster. Well I wasn't watching it exactly but Mrs Ghee was and I couldn't really avoid it. Anyway, a section of this show involved the fat-tongued arsehole driving to see some weird hippy type fella out in the woods in order to discuss environmentally friendly charcoal (sustainable, non-polluting sort of bollocks), the obvious message being to encourage us to buy said barbecue fuel rather than the cheapo 'Happy Shopper' stuff that anyone with less money than sense would procure.
But what was Oliver's chosen mode of transport out into the arse-end of nowhere to visit this bloke? A fucking 1960's Ford Mustang….. A car with a 5 litre V8 engine which drinks more juice and chucks out more pollution than 8 of the vans that I drive that are soon going to be subjected to Khunt Khan's ULEZ tax in central London.
Stupid, hypocritical cunts.
Nominated by Ghee The Witches