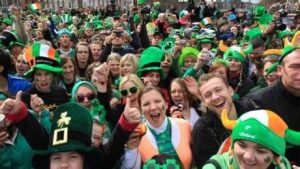 The Irish.
The whole lot of the fuckers from the halfbreed, shirt-lifting Teashop to the humblest bog trotter.
And I speak as an Irish halfbreed myself.
'Der will be no negotiating on de backstop' according to some no-mark in Dublin.
Well feck youse. No deal will fuck your banana republic over big time while causing some inconvenience to us.
Feck de lot of youse, and feck de border.
And you can have that unfunny Mrs Brown drag act back as well.
Begorra.
Nominated by Cuntstable Cuntbubble