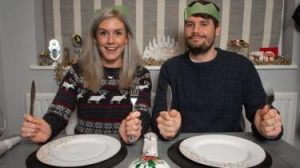 Lazy, Can't be asked, it's Too Much to Cook at Christmas, Childish, Snowflake Cunts.
Yes, I know some parents enjoy wallowing in their kids' perpetual childhood, but this is of another order.
What a generation of some truly useless spongers we've spawned. Just seen a celebratory BBCstan news(?) item.
https://www.bbc.co.uk/news/uk-england-46383297
The subject, 30 to 40 year, so called "adults" whom refuse to grow up and do the decent thing and cook for their elderly parents at Christmas. What a fucking waste of space they are, employing every lame excuse imaginable, in order to parasite off their parents' goodwill, whom have probably spent close to half their lives raising ingrates, with little reward.
The pic on this news piece shows a couple of grinning smugos "aren't we clever, stove dodging wankers", with empty plates to the fore, pie holes agape, ready to be spoon fed, like shameless fat cuckoos, still troughing and shitting in their parents nest and celebrating the fact, at 40 years old!.
If they were mine I would phone em just before they set out for the trough and tell em dinner is cancelled, now open your presents we sent you two cunts, there's a tube of moldy, sour cream crisps and a stale mince pie for you knobs to share.
Can you see this generation taking care of their now knackered parents in a few years? No, just call a care home. Merry Christmas all and fuck em!
Nominated by Set The Spark