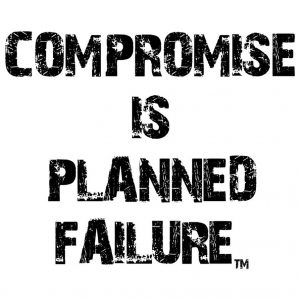 (Compromise)
Compromise is a cunt, isn't it?
As the old joke goes, my wife and I compromise on everything: She wanted to watch Downton Abbey but I wanted to watch the football – so we compromised and watched Downton Abbey. It's an amiable arrangement between husband and wife whereby they both agree to let the wife have her choice.
When both sides yield, neither is the winner and nobody is content. It eventually becomes an unhappy medium which falls betwixt two stools.
Often there cannot be an acquiesce, or at least shouldn't be. If a family of five wanted a pet, they might discuss and debate it before having a family vote. If the vote produces three votes for a dog and two votes for a cat, how can they compromise? The dog wins so a dog should be bought.
They shouldn't purchase a gerbil; they shouldn't search for a dog-like cat or a hybrid feline-hound; why reduce the demand with a bio-hacked mutant which satisfies nobody?
Fuck compromise.
Nominated by Captain Magnanimous