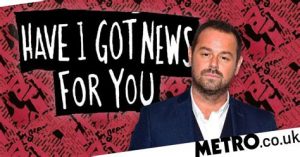 Danny Dyer must be grievously cunted.
Just when you tought What A Load Of Sneery Old Toss (HIGNFY – Haemorrhoids, Ingrowing Egos, Glans, Nads, Farts, Yuck..) couldn't possibly get any worse, they've given the job to this appalling wannabe fourth-division footballer-type dingleberry.
I haven't watched it for ages, as Slapped Baby-Arse Face superheats my piss.
Dyer is an utter sphincter.
Nominated by HBelindaHubbard