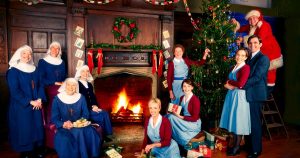 The entire Cast and Production team, and most especially the Writers of Call the Midwife Christmas Special 2018 are self righteous Cunts!
There you are settling down with a mince pie and a glass of port, ready to be treated to a heart warming stroll down memory lane, where the poor were poor and grateful for help received and little miracles occurred to offset the grimness of everyday life.
What do we get? I storyline punctuated by every 2018 pressure group issue.
No NHS beds when you need them.
Apartment building in London.
Immigrants, poor wee loves are Chinese this time.
Oh, you can't adopt a wee brown baby if you are white!
Expansion of Ethnic Christianity into the space left by the traditional.
Oh. and the old chestnut! Wouldn't everything be better if women ruled the world! The 2 men left in the series (and a guest father portrayed as a useless cunt) are shown as emotional retards given life by their cuntish women!
There were probably other references that I missed in this load of over-sentimentalised cuntishness.
So, I enter the New Year with a deeper loathing of the BBC cunts and I doubt that's going to improve anytime soon!
Happy New Year!
Nominated by Alan Hancox