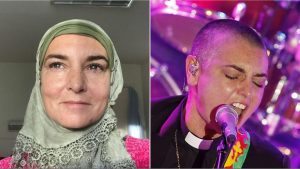 Sinéad O'Connor is a cunt.
The one hit wonder has converted to Islam and is now known as Shuhada.
Apparently, this is not the first time this attention-seeking Irish twat has decided to waste time and money changing its name. Why only last year she successfully did so and was called Magda Davitt.
This filth-bag also joined Sinn Féin a few years back. Now I'm no expert on politics but I believe that organisation has had a bit of a nasty reputation in the past… correct me if I'm wrong.
Why are we giving this mega-cunt publicity? Why do I feel so angry that I have to spend my time nominating this bald twat?
Cunters, please help!
Nominated by Bear Cunt
I want my add ten quid's worth on that nasty sack of shit, Sinead O'Connor.
Now calling herself Shuhada Davitt, O'Cunter is so smug about her recent conversion to the religion of terrorism and savagery. She posted a series of tweets, one of which was, and I quote;
"I'm terribly sorry. What I'm about to say is something so racist I never thought I could ever feel it. But truly, I never wanna spend time with white people (if that's what non-muslims are called). Not for one moment, for any reason, they are disgusting".
She's taken a lot of shit for her comments on Twitter. Surprisingly, some of that has come from her new brothers and sisters in the religion of violence. The vast majority of Muslims are nothing more than backward, hate filled, violent savages. The rest are just smart enough to try to hide it. Islam has a tendency to turn converts into rabid, swivel eyed, hate filled arseholes, who often go on to blow themselves, and other people, to shit. However, it usually takes months, years even. O'Cuntstick's conversion has happened at the speed of light. And white people are disgusting? Does she think that converting to Islam has magically altered her ethnicity? I know she's Irish, but she's taking the piss with that level of stupidity.
I'm aware of her struggles with 'mental health issues', bi-polar disorder, blah blah blah. But really, she can't fucking hide behind that excuse anymore. The fact is that she is, and always has been, a nasty piece of shit. Back in her early days, she confessed her love of the IRA, and she's never really deviated from the path of cuntitude. That said, Islam is the perfect cult for someone who, allegedly, suffers from mental health issues, since you need to be a fucking loon to believe the bullshit written in the Koran.
Anjem Choudhary will proud of the latest addition to the Islamic family. I expect she'll be volunteering to model next season's suicide vest any day now.
Sinead O'Connor, Shuhada Davitt, Marvin the Martian, whatever the fuck you call yourself now, take a bow, you are a cunt.
Nominated by Quick Draw McGraw
Shuhada' Davitt
I see that the artiste formerly known as Sinead O'Connor has undergone another 'conversion', this time to Islam, and has been pretty nasty about it. She wrote 'I never want to spend time with white people again. Not for one moment, for any reason. They are disgusting'; thereby ironically cunting herself and her family in the process.
Off you go to Iraq or Iran then, you dizzy mare, before the scuffers do you for inciting 'hate crime' (as if!). I'm sure you'll receive a warm welcome. Just remember to wear a couple of scarves around your empty head the whole time, just to be Shia, to be Shia.
Nominated by Ron Knee