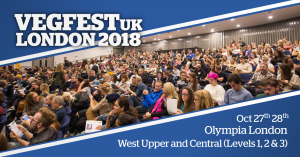 Here's one for your diaries.
27/28 October London Olympia.
Vegfest:UK.
A celebration of the "vegan lifestyle " with 300 stalls, lectures from various up their own arse pontificating cunts and a special section for the "little ones" to "undestand the advantages of healthy eating."
Fuck me, I wish my old man ( gawd rest his soul ) had taken me to something as exciting as this instead of the fucking football. What a cunt eh?
There's also live music from two stages. I wonder what vegan music sounds like? I suspect it may be very like the Jesus music I sang along to in Sunday School.
I don't want to march with the infantry
Ride with the cavalry
Shoot with the 'tillery
I don't want to zoom on the enemy………i'm In the LORD'S ARMY!!!
Oh please fuck off.
I've got one thing to say to these followers of the new religion…….. you're going to die anyway cunts! Just accept it and stop shitting yourselves ( literally ) you wankers.
Nominated by Freddie the Frog