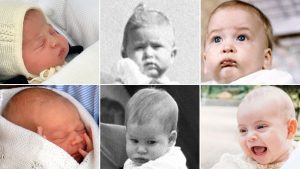 Fuck me,years of inbreeding may have affected their mental capacities,but it certainly hasn't affected their virility,more's the shame. They breed like locusts. The latest to announce another parasite-in -waiting is The Half-Blood Half-Wit and his eye-for -the main-chance tart. Another spoiled,entitled brat who'll expect the taxpayer to keep it for it's entire life. I'm not even sure that coloured people and Gingers should be allowed to breed….an Uppity carrying the ginger gene can't end well. I hope they call it Terry…Terry the Chocolate Orange.
William and that vacuous brood-mare that he married are pumping the brats out in much the same style as any other benefit-dependent,workshy bunch of Spongers. No thoughts of setting an example about the threat of overpopulation for The Royal Graspers. I don't like the look of that lad of theirs either,looks a nasty,spoiled,lazy little bugger already.
We've got the Middleton woman permanently up the duff,now the Darkie woman,and it can't be long until that pudding-faced tart who got married the other day is with whelp too. All "Royals",all expecting to lead empty,unproductive,tax-payer funded lives of unearned indulgence and sloth.
I'd put a stop to the whole charade. Personally, after the old biddy and Prince Philip bugger off I'd like to see an end to it all,but I suppose that there is a place for a drastically slimmed-down Royal Family. Although,to be fair, they can have as big a Royal Family as they like,just as long as I'm not expected to contribute a single penny towards them. The sight of that pompous gasbag Prince Andrew announcing that his daughter's wedding was a "private wedding" the other day nearly had me blowing a fucking gasket…if it was private,why the fuck should the taxpayer foot the bill for any part of it?
However, I digress. The Royals haven't bred a decent 'un in generations. The Queen's male children are appalling, Charles' son seems to be following the same lazy,entitled path as his father. Hewitt's child seems to an easily led congenital idiot. Andrew's children are,as previously discussed,fat,ugly and bone idle. Edward's children are ,frankly,highly suspect in my eyes. I believe that a Jeremy Kyle DNA test may be in order there.
If you're breeding horses,dogs,cattle,pigs etc., you don't keep breeding off poor stock. You can put the finest thoroughbred mare with a donkey and all you'll breed is a Mule. The Royals seem to believe that a drop of fresh blood will reverse the ravages of generations of inbreeding…well it fucking won't. As is proved by the current crop of junior Royal parasites.
They should all be Jaffaed before they spread any more of their compromised DNA through the population. Now that they have moved on to breeding with Darkies,well the results could be horrific.. I foresee a tribe of benefit scrounging,,entitled,ginger- afroed,chiggun- munching Joey Deacons who have no soul…..not a pleasant thought, I'm sure you agree.
Fuck them.
Nominated by Dick Fiddler