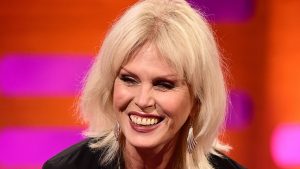 I don't know if GB still has a four-minute warning system in case of nuclear attack, but I think the meejah might be testing something new…
An aggravating, faux-posh whine which is transmitted frequently on ITV; I must get in sandbags, zinc buckets, Dettol liquid &c. and barricade myself in under the stairs.
Yes, it's a next-week warning for yet another bloody Joanna Plastic-Bumley series.
I pray that it'll all be over before Christmas… What a dog-awful CUNT she is.
Nominated by HBelindaHubbard