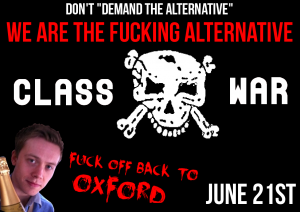 I see that MP Jacob Rees-Mogg has been targeted outside his house by a bunch of rent-a-crowd gobshites, this time from self-styled 'anarchist group' Class War.
This bunch of abhorrent, santimonious loonies doorstepped The Mogg and his family, hurling such niceties as 'your dad's a really horrible person' at his kids.
Now The Mogg's a big boy, and can take the rough and tumble of politics, but having these offensive wasters turn up at your door spouting their bile, particularly when it's aimed at your kids, is way, way beyond the pale. These prats should be ashamed of themselves, but shame is not something they probably have; no doubt it's too 'bourgeois' a concept to consider according their orthodoxy.
Still, every time these septics carry on like this is a time when they undoubtedly antagonise and alienate yet more people, so I suppose some good might come of it yet. But I'm already antagonised, so a simple 'fuck you' will suffice as far as I'm concerned.
Nominated by Ron Knee