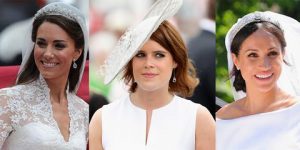 More millions of public money spent on these parasites. All because Airmiles Andy complained to Mumsy that his bitch should be treated the same as Hewitt's ginger bastard.
Apparently they are having a piss up at Windsor on Friday night then another all day fuckfest on the Saturday involving bumper cars and other Michael Jacksonesque fairground attractions. Presumably there won't be any pikeys trying to get their filthy hands up Eugenie's skirt or shortchanging the poshboys who are not used to handling real money.
What a fucking farce!
Nominated by Freddie the Frog
Sarah Ferguson and Eugenie
A right royal (with optional 40 gun salute) cunting please for this ugly old chavvy ex royal and her pikey looking daughter on the latters wedding day.
For once the BBC has seen sense and is not putting the fucking freeloading heap of bollocks on TV live, so the doyen of tackiness, ITV's Good Morning has taken over, with no doubt fawning, arsehole licking commentary from Her Royal Highness The Princess Philip Schofield, the queen of camp TV. If ever Limp Wrist becomes an Olympic event Queenie Schofield will win gold for Britain every fucking four years.
However, it seems we are paying millions of pounds so this pikey looking spawn of Airmiles Andy, and his obese ugly ex-wife (who sadly for her was born two centuries too late – she would have made an ideal whore for a King back then, if only Jonathan King to stop the rumours).
No doubt the ever grasping, greedy old cunt will have come to some financial arrangement with ITV for the *rights*, no doubt also tying in with a chav's gossip magazine and the BBC will spend all the weeks budget on filming the waddle up to the church for the news but why should anyone be interested in the marriage of the ugly daughter of an ex-prostitute who just happened to have had her legs open for one of the ugliest princes Britain has ever produced. If the Ferguson woman was short of money, and Andy too tight to pay up, she should have got Bryant to pay to get his toes sucked by the topless old trollop as a trip down memory lane.
We shouldn't have to pay for security and processions for the offspring of a shop soiled old has-been hag with the morals of a goat
Nominated by W.C.Boggs
Royal Family Promotional B/S
I don't know about anyone else, but I'm walking with an extra spring in my step after reading the latest bit of royal 'news' in 'The Metro'.
The Duchess of Cambridge has returned to 'official duties' (the strain!) and showed that 'she's got the royal family's knack of being thrifty when it comes to clothes'. Kate appeared in the £1,350 Emilia Wickstead dress that (*gulp*!) she first wore in Hamburg last year! As if this isn't earth-shattering in itself, husband William (*gasp*!) 'also had on the same suit he wore in the German city'! Lawd lav a dack an' blow me dahn!
It heart-rending to see royalty taking the lead in these years of grinding austerity. It's that Dunkirk spirit which so epitomises this great nation and which has seen us through some of the darkest hours in our history. My chest puffs with pride at the notion of being British.
Personally I was moved to tears by the nobility of this sacrifice, as no doubt were the millions on low incomes who face the day-to-day struggle to make ends meet. It's a real morale booster to know that in these trying times, we truly are, as our great former leader David Cameron once so poetically put it, 'all in this together'.
Gawd bless yer Sir and Ma'am, yer a hexample to us all.
Nominated by Ron Knee