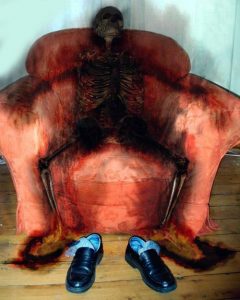 Have navigated me old arse orn countless occasions acrorss the world and have heard tell orf the phenomena from time to time. Moonshine you may say. Fakery and fuckery say others. Stop smoking in bed say the quacks. Well all I have to say is every so orten it appears that some cunt bursts into flames for reasons unknown. A random old mare (happens more often to mares apparently) is sitting orn the crapper and next second she is pile of blackened crisps and a pair orf surprisingly untouched comfy slippers. Unlikely to be a jihadi but these days you never know.
Was all the rage in the '60s and '70s, standard media story then and Arthur Brown nearly achieved it a few times but not by intention (Google the cunt). Amazing the crazy cunt is still alive (have got the cunt in The Pool cunts). Now that brings YT to me intention orf me little homily, a certain Fuck Puppet that steals me noms using a collection orf snide accounts to do so. Making me complaint the army way, no names but cunt, you know who you are.
A chap's noms are special to him and represent to us senior cunters many years orf selection and nurturing waiting to come up orn the Cunt Grand National. Many fallers but only one who makes it over the final fence. Thus Yours Truly is outraged, enraged and incandescent with rage over this cunt with no name. Spontaneous Human Combustion? Is that me old arse smoking?
Nominated by Sir limply Stoke