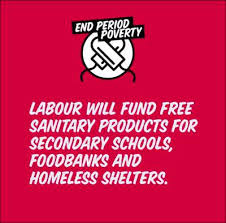 Period Poverty? When the fuck did this happen?
A hashtag creation by do-holders designed to whip the feminists and food-bank volunteer wankers into a frenzy of inequality outrage. I've just checked a supermarket website and you can buy a packet of 14 jam rags for 66p. Any cunt can scrape that together from down the back of the couch. If not, you need to get your priorities in order. Periods are a natural bodily function, but so is having a shit. Is the government going to start going round the doors giving everyone free bog roll? The Scottish Government has decided to spend £5+ million providing free sanny products to schools and colleges. It's a good job they have all that spare money just lying about, eh?
Bet the cunts that will inevitably stuff their bags full with all the lovely freebies have plenty money to spend on a metric tonne of make-up so they can look like a vacuous slag on Instagram.
Nominated by Shite &Onions