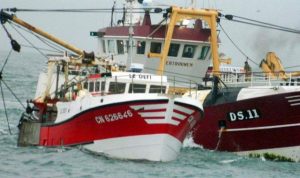 The French.
I was going to qualify this with "French Fishermen" but fuck 'em, the shruggy cunts all need a doing.
French fishermen have a grievance with UK scallop boats so what do they do? They start ramming our small boats with their larger ones, that's what.
The French have form with this type of disproportionate response. In the 90's, their farmers protested against meat imports (specifically, lamb). They stormed government buildings, attacked riot police with weapons as diverse as bottles, rocks, metal objects and shit (presumably not their own but who can say with that lot). They set fire to one truckload of British sheep, killing over 200 of them, poisoned 94 on another truck and slit the throats of fuck knows how many on another.
On both occasions, we – the UK – were adhering to the law but the frogs kicked off and turned to violence to get their own way.
How the fuck are you supposed to negotiate with cunts like that?
Next time the UK boats set sail for the disputed scallop beds, we should send a couple of Type 23's with them. At the first sign of trouble from the Pastis gargling snail botherers, they should strafe the cunts and/or stick a Sea Wolf down their funnel.
Nominated by Thirkleby Spunktrumpet