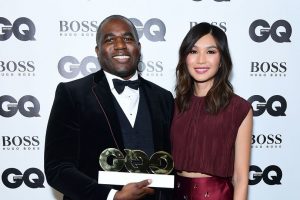 **** BREAKING NEWS! ****
You looking for comedy Cunters?
Some rubbish rag has just named Lammy……
But wait… it gets worse (is that possible?)… cos he's dedicated said award to:
GRENFELL
Ha! Ha! Ha! Ha! Ha! Ha! Ha! Ha! Ha! Ha! Ha! Ha! Ha! Ha! Ha! Ha! Aargh!
Nominated by Ruff Tuff Creampuff
GQ Magazine. What a bunch of cunts.
Prince Charles gets a Lifetime Achievement award for being born with a silver spoon in his mouth to the richest family in Britain, talking to trees, cheating on his wife with a slapper who looks like the back end of a horse, and generally being a jug-eared fucking cunt.
Queen Camilla? You're having a fucking larf in'cha?
Nominated by Prince Cunt