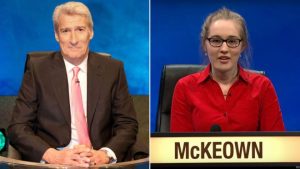 Now this long standing programme is under fire for not posing enough gender neutral questions (fuck knows what they are) and for not having enough women contestants. Now as far as I know the split at uniy is roughly 50/50 so girls/ladies/women instead of moaning, get your shit together, stop screaming it's unfair and enter an all women team and win the fucking thing. That way you will prove beyond doubt that you are better. There have been some outstanding women contestants Gail Trimble springs to mind but when all women teams are entered at least your efforts can be applauded.
Take a look at this. You will need to scroll to 36:00 to see how well they have done as all female teams in the past.
As I said if you think this is sexist, stop bitching get your shit together, start revising, make no excuses and win the fucker.
Nominated by Cuntsince1066