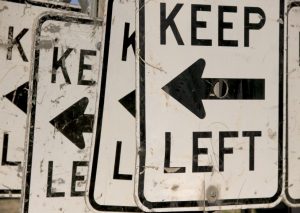 The left are due a nomination. Jacob Rees Mogg made the silly decision to advertise the fact he was on holiday in New York on the internet. So left wing retards descended on his home and vandalised the place. Apparently, they sprayed the words, "posh scum" on his windows and, "shut up and die" and, "dickhead" on his garage. They also scattered condoms on his garden, presumably a reference to him being Catholic, and left an effigy of Corbyn…sorry…a dildo…on the bonnet of his wife's Range Rover and painted the symbol for anarchy on the car.
The fact that these democracy hating sacks of shit have only done this while he was away, says a lot about how cowardly they are. And it's not just Tories they are attacking now. Corbyn's followers are calling for the Noncefinder General himself, Tom Watson, to quit as deputy leader of the Labour Party, after he commented on the Party's dismal failure to tackle anti-Semitism within its ranks. And Tony Benn's granddaughter has received online abuse from Momentum morons, after she similarly criticised Labour for failing get rid of the many racists and anti-Semites.
Lefties have always been enemies of democracy, free speech, reasoned debate and many of the other things that all free, civilised countries enjoy. They've also been quick to level accusations of racism, Islamophobia, sexism, homophobia, etc at others. And their response when those same accusations have been levelled at them, has been violence, intimidation, talking and shouting over people who were trying to comment, to drown them out, insults and general immature behaviour. However, that's all become far worse since their Messiah, Corbyn was elected leader of the Labour party.
And when he was first elected as Labour leader, he promised "a kinder, gentler politics". Those words have since proved to be a lie. In recent weeks, Momentum have been likened to Militant Tendency, that bunch of far left loons who infested the Labour party back in the 80's. I would go further than that. Momentum's behaviour, especially since the anti-Semitism scandal broke, has been more akin to the behaviour of the Nazi party in the 1930's.
We all remember Thornberry's tweeting of a photo of an Essex white van man's house, covered in England flags. The sneering tone and unspoken disapproval of an Englishman and England in general, not to mention the implication that the man was racist, Islamophobic, etc, is not an exception, it's the rule. The entire left wing hate the UK, especially England and the English people. They hate democracy, they despise freedom of speech and freedom of thought and they firmly believe that anyone who does not subscribe to their fucked up beliefs is 'far' right. And if you dare to publicly change those beliefs, you will be met with most vile abuse, insults, threats and intimidation.
For them to call anyone scum, is hypocrisy at its worst. THEY are scum. THEY are the ones who pose a serious threat to this country and our way of life. The left, are cunts of the highest magnitude.
Nominated by Quick Draw McGraw