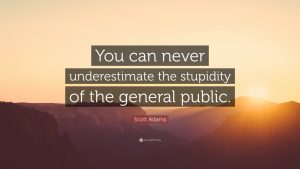 I want to cunt the stupidity of the public.
With the Brexit circus currently highlighting how much contempt politicians and slebs have for the general public and implying we are too stupid to understand the gravity of the situation, and me currently sat here watching an online documentary about 9/11…it got me thinking.
Without getting bogged down in too much detail, I think it was undoubtedly a false flag operation, orchestrated by some element of government, shadow or otherwise.
Now whether other people agree or not, or dismiss people like me as a conspiracy theorist is irrelevant. There should at least be some common ground everyone can agree on, in that there are literally hundreds of unanswered questions from that day (terrorist passports, absence of wreckage, buildings in freefall, complete failure of Norad, blatant lies told by the Bush administration in the aftermath….I could literally go on all night).
This cunting isn't so much about the day itself, it's about people, the general public of not just the USA, but the entire world. It was a global event, with so many suspicious circumstances, gaping holes, lies, withheld information, and not forgetting the complete whitewash that was the 9/11 commission.
If joe public can be so ridiculously easily duped over the murder/deaths of over 3000 innocent people, then is it really such a surprise that our rulers treat us with such disdain?
That day was one of the most blatant crimes against humanity in modern times, and no more than a handful even gave a fuck. The rest were either too ignorant, lazy or catastrophically fucking retarded to push back against the establishment a little bit, ask questions, demand answers and demand a bit of fucking respect.
This was going to be a cunting of Americans, but I don't think it is just an American mentality. I can't imagine things being any different had it happened over here. Individuals are balanced, reasonable being. People are fucking pig ignorant, thick fucks that can't be trusted with even the most infantile and unimportant decisions.
Nominated by The Ghost of Glauber Berti