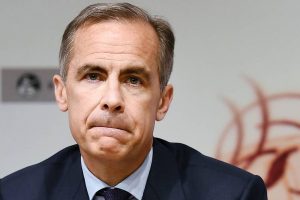 A "safe as the Bank of England" cunting for this Canadian arsehole, head of the aforesaid BoE and arch Remainer. This morning he has told the equally anti-Brexit BBC the prospect of the UK leaving the EU without a deal was "a relatively unlikely possibility, but it is a possibility". Of course it leads the R4 news and will for the whole fucking day.
Carney farting his fucking brains out of his arsehole yet again, word-spinning and trying to stir up more panic amongst the snowflakes and poofy Labour MPs who have made it their life's work to overturn democracy because they don't like it.
Nominated by W.C. Boggs
Another cunting for that wankstain Carney. Governor of the Bank of England.
Despite being wrong on each and every forecast, he is at it again. Doom and fucking gloom if we don't roll over to the EU. Oh, and justifying his Armageddon forecast pre-referendum using terms that will be familiar to Jim Bowen fans – 'This is what you could have had'
If we had done as we were told, apparently all would be the best of all possible worlds.
The result?
'The pound declined on the currency markets in the wake of Mr Carney's comments, falling below the $1.30 mark, before recovering some ground.'
Fuck off back to Canada you remoaning, establishment cunt. You will fit in well with Monsieur Trudeau and the rest of the loons.
Cunt.
Nominated by Cuntstable Cuntbubble
Questions that are unanswerable:
➖ When did time begin?
➖ Who made God?
➖ Why hasn't Mark Carney resigned yet?
The Governor of the Bank of England warned that Britain faced an "uncomfortably high" risk of a no deal Brexit, which he said would lead to higher prices.
Sigh.
The poutine-eating Canuck continued saying banks had "done the stockpiling" and could survive a recession that meant property prices falling by a third, interest rates increasing by four percentage points, six months of snow to fall and zombie dragons invading to eat small children.
Yes, Carney really say that property prices could fall by a third.
The maple syrup-eating prick has previous experience with Fearmongering. However nothing he has predicted about Brexit has happened.
Nothing.
Cameron peddled this nonsense (debt, World War III, etc) and consequently resigned; Osborne peddled this nonsense (£4300 extra for every family, Global Brexit recession – the day AFTER the vote!) and consequently resigned; therefore why is Carney still here?
▪
Questions that are answerable:
➖ Will Carney continue making ridiculous Brexit predictions?
➖ Is Carney a mendacious, snake-oil salesman?
➖ Is Carney a bit of a cunt?
Nominated by Captain Magnanimous
And a brief cunting for the continuing saga of Project Fear. Another day, another scare.
Today the BBC is telling us that Police leave will be cancelled due to the likely outbreak of civil unrest when we leave the EU. This of course originates in Whitehall and is given due prominence by the good old BBC. Yesterday Carney's scaremongering was their lead. All day.
I have already stockpiled sandwiches, au pairs, food and flights. It now seems that I need stab vests and pepper spray.
When will we see sense and crawl back?
Nominated by Cuntstable Cuntbubble