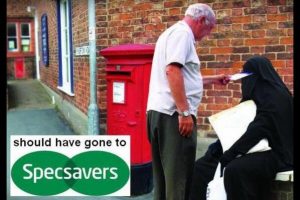 I've noticed these new black mobile letterboxes moving around cities, I assume they're some sort of new smart electric powered thing to keep young people interested in the Post Office.
The other day I had a letter to post so I walked in front of one of these mobile letterboxes to make it stop but when I tried to push my letter into the slot it was blocked. Very annoying so I went to try again but the letterbox started malfunctioning and thrashing it's self righting appendages at me. Then I hear this shout from this brown man with a big beard, who I assumed must have been a post office worker come to rescue me from the letterbox assault. But no, once he gets up close to me he proceeds to shout and spit in my face.
I've got to say that was some of the worst customer service I've ever experienced in my life so I left the situation promising to right a strongly worded letter of complaint to the Royal Mail about it and for their obvious lack of testing of their new black mobile letterboxes.
Nominated by Mad Jack Churchill
Lying snowflakes are total cunts…
There are many examples of libfuck cunts spreading social media bullshit, but this latest one is a humdinger even by the most petty and fucked up snowflake standards… Some daft bitch (some twat called Amanda Fleiss) on Twatter posted the following:
'I've just seen a Burka wearing Muslim lady with her kids being abused outside the medical centre, youths were shoving envelopes in her face, and her kids were crying. Police had to be called. This is your doing Boris Johnson and Rowan Atkinson thinks what you said is funny'
This obviously never even happened and it an outright lie… It's typical snowflake cuntery and is on a par with Lily Mong's 'racist taxi driver' bullshit… Thing is, cunts like this are so bad at it… They go so over the top, and go out of their way to make their targets as nasty and as racist as possible, that one can instantly tell its some social media snowflake cunt telling yet another absolute whopper in order to make peacefuls look good and the British look bad…
Nominated by Norman