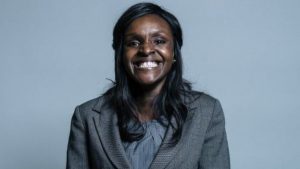 A cunting for Fiona Onasanya, the sitting Labour Mp for Peterborough, who , along with her brother, is to be tried for falsifying statements to both Police and the Courts to avoid conviction on a motoring offence.
She is charged with one count of doing an act tending or intending to pervert the course of justice. She and Festus Onasanya, her 33-year-old brother, are alleged to have misinformed Cambridge Police about who was responsible for driving a speeding vehicle on 24 July last year. They claimed a man called Aleks Antipow was behind the wheel.
Ms Onasanya's brother, from Chesterton, Cambridge, faces two further charges of perverting the course of justice. He is claimed to have blamed someone else for two separate speeding incidents, on 17 June and 23 August last year.
Ms Onasanya is ( believe it or not ) a Solicitor and a Labour whip responsible for party discipline. Accused of having given felonious testimony to the Court ( Perjury ) and having wasted thousands of pounds by "fingering" an innocent person as the "mystery driver", the smug pair left court smiling and apparently unconcerned. A spokesman for the labour Party has told that Ms Onasanya was a "guiding light" and was destined to be the first black female Prime Minister. ( Jesus Christ Almighty ).
There are apparently rules regarding convicted cunts serving in Parliament, and although the trial is yet to come, it could indeed be a considerable stretch if convicted! Sanyana however was supremely confident that "all will be well " and that "wait and see " and left the court smiling this evening having entered a plea of not guilty. ( 13/08 )
It is my hope that, if found guilty, this polished turd is not only jailed , but that Parliament kicks this bitch into touch, and saves us from the horror of having her as Prime Minister.
Gentlemen, she is indeed a Cunt!
Nominated by Asimplearsehole