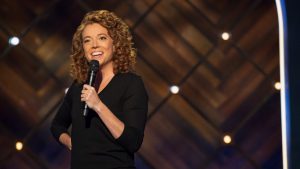 Double cunting for Netflix and Michelle Wolf. Michelle Wolf is a 'comedian' who has a show on Netflix called The Break with Michelle Wolf, and what does one of the more recent (at the time of writing) segments involve? The celebration and advocation of abortion. That's right – not just a pro choice argument for abortion – for which, despite not really being pro choice myself, there are legitimate arguments regarding personal liberty – but AN ACTUAL CELEBRATION OF ABORTION and all the negative mental issues that come with it. Here's the video – fair warning, I've never been so repulsed by something in my entire life.
Meaning that not only is Michelle Wolf a cunt for saying that abortion should be celebrated instead of being mourned as an occasionally necessary evil, but Netflix are also fucking cunts for signing off on and therefore endorsing such repugnant views. Whilst they do have the right as a private company to promote such things the fact that have shows how morally repugnant their company politics are.
Fuck off Michelle Wolf and fuck off Netflix, you sociopathic cunts.
Nominated by OpinionatedCunt